MEDITATION ESSENTIAL OIL BLEND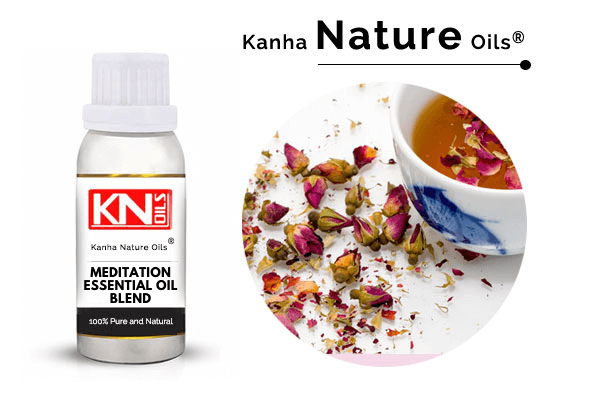 What is MEDITATION?
Meditation helps to remove chaotic thoughts from the mind and brings calmness and mindfulness in the present moment.
KANHA NATURE OILS, MEDITATION ESSENTIAL OIL BLEND supports emotional well-being while meditation. This essential oil blend reduces distractions, stress, anxiety, and improves focus and at the same facilitating the healing of the body.
Description:
Make your mind and body calm and lift your spirits with this MEDITATION ESSENTIAL OIL BLEND.
Its a COGITATION BLEND of frankincense, lavender, orange, patchouli, and marjoram oil.
FRANKINCENSE OIL – It has a balancing effect on emotions, reduces restlessness, and supports spiritual freedom.
LAVENDER OIL – It has calming properties that can put your mind in the right frame. Its soft and soothing aroma heals and purifies your mind.
ORANGE OIL – Citrus scents are energizing. It is a mood booster.
PATCHOULI OIL – It may help promote sleep and relaxes are mind.
MARJORAM OIL – It is a perfect remedy for nervous exhaustion. It's warm and woody promotes a calming atmosphere.
We just want our customers to see how our industry prices are simple & best fit for them. For this you need to be updated from our side on daily basis. Ask our updated latest catalog with latest pricing. One more thing! our three fundamentals never change. We are committed with best price, purity & inhouse variety manufacturing. Want to know what they are? Find it here.