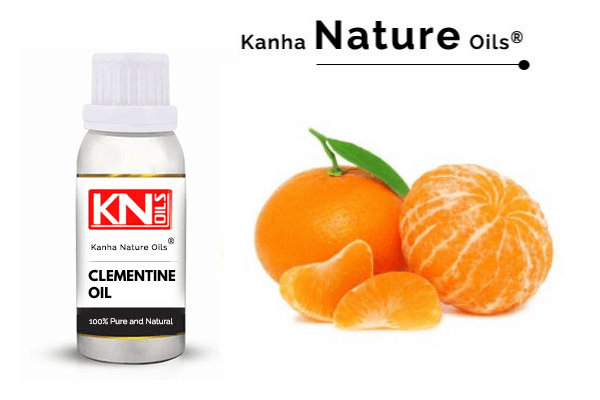 Botanical Name: Citrus Clementina
CAS No.: 8008-31-9
EC No.: 284-521-0
FEMA No.: 2657
Flash Point (°C): 49.5
Refractive Index: 1.4670 to 1.4790 at 20°C
Specific Gravity: 0.8450 to 0.8560 at 25 °C
Optical Rotation (°): +62.00 to +78.00
Color: Bright yellow
Solubility: Soluble in alcohol & oils, insoluble in water
Description:
The Clementine is a citrus hybrid of mandarin and sweet orange, originating from Algeria; Major Clementine producing countries are China, Spain, Turkey, Morocco, Brazil, Egypt, the United States, Iran, Argentina.
Clementine is another variety of mandarin like Tangerine. It is sweet, easy to peel citrus fruit.
Essential oil is extracted from fruit peel. Oil content in peel varies from 0.3 to 0.9%.
Like other citrus oils, Clementine is rich in the cleansing chemical component Limonene.
This oil acts as a top note in an essential oil blend.

Odor profile:
Citrusy sweet
Major Constituents:
Limonene, Myrcene, Linalool, Citronellal, Geraniol.
Application:
~ This oil can be used in the manufacture of a variety of home care and personal care products because of its sweet, citrus smell, these products are Floor cleaner, Toilet cleaner, Sanitizers, Deodorant, Facial cleanser, Shampoo, and shower gel, etc.
Aromatherapy:
Clementine oil is emotionally uplifting, spiritually related to relieving restlessness, astringent. It can also be used in skincare for oily skin types and blocked pores to stimulates collagen production, Anti-inflammatory, promotes skin recovery and healing, and protects against free radical damage and early signs of aging.
We just want our customers to see how our industry prices are simple & best fit for them. For this you need to be updated from our side on daily basis. Ask our updated latest catalog with latest pricing. One more thing! our three fundamentals never change. We are committed with best price, purity & inhouse variety manufacturing. Want to know what they are? Find it here.