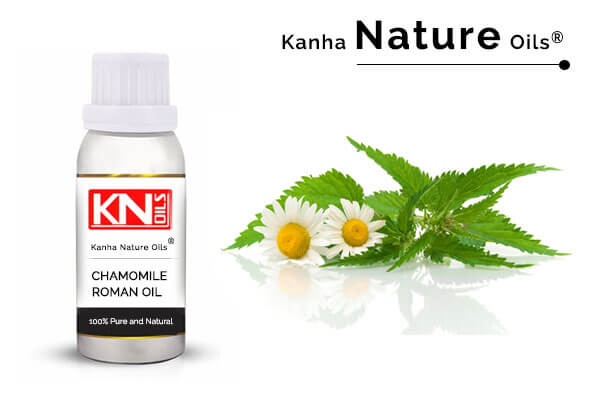 Botanical Name: Anthemis nobilis / Chamaemelum nobile
CAS No.: 8015-92-7
EC No.: 283-467-5
FEMA No.: 2275
Flash Point (°C): 58.78
Refractive Index: 1.4340 to 1.4490 at 20°C
Specific Gravity: 0.9120 to 0.9480 at 25 °C
Optical Rotation (°): -2 to +3
Color: Pale blue
Solubility: Soluble in alcohol & oils, insoluble in water
Description:
Roman chamomile is native to western Europe and North Africa and is widely cultivated in America, Germany, France, Spain, Italy, Morocco, and France.
Roman Chamomile oil is generally extracted from the flowers and buds by steam distillation. Oil yield is about 0.6- 1.8 %.

The biological activity of Roman Chamomile oil is mainly due to the presence of Phenolic compounds such as flavonoids apigenin, luteolin, quercetin, patuletin, and essential oil constituents like a-bisabolol, bisabolol oxides, and azulenes.

Odor profile:
Sweet, fruity, and herbaceous.
Major Constituents:
Pinene, Myrcene, Camphene, Sabinene, 1,8-cineole, y-terpinene, Caryophyllene, and Butyl angelate and Propyl angelate.
Application:
~ The oil possesses various therapeutic properties like anti-spasmodic, analgesic, antiseptic, anti-inflammatory, anti-depressant, and carminative.
~ This essential oil is effective in cases such as Rheumatism, Sores, Sprains, Strains, Stress, Wounds, Headache, Inflamed Skin, Dermatitis, and Arthritis.
Aromatherapy:
Roman chamomile oil can be used on the skin as massage therapy to treat eczema, rashes, wounds, dermatitis, Inflammation, dry and itchy skin, and other allergic conditions.
We just want our customers to see how our industry prices are simple & best fit for them. For this you need to be updated from our side on daily basis. Ask our updated latest catalog with latest pricing. One more thing! our three fundamentals never change. We are committed with best price, purity & inhouse variety manufacturing. Want to know what they are? Find it here.