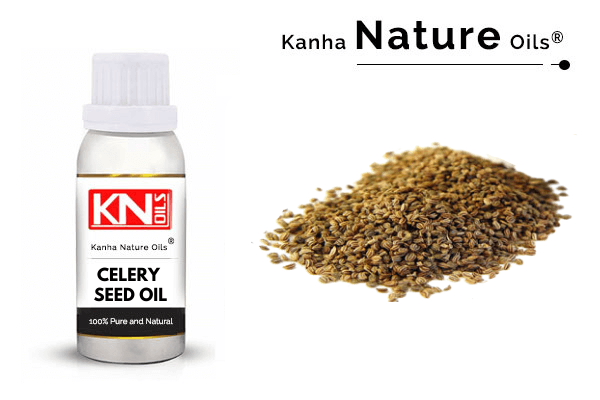 Botanical Name: Apium graveolens
CAS No.: 8015-90-5
EC No.: 289-668-4
FEMA No.: 2271
Flash Point (°C): 49.20
Refractive Index: 1.4760 to 1.4940 at 20°C
Specific Gravity: 0.8710 to 0.9120 at 25 °C
Optical Rotation (°): +46.00 to +76.00
Color: Pale Yellow
Solubility: Soluble in alcohol & oils, insoluble in water
Description:
Celery is a biennial native to southern Europe, and North Africa. It is cultivated for its seeds in India, France, UK, Netherlands, Sweden, Egypt, the USA, and other countries.
Celery seeds contain 1.5–3.0% volatile oil which is very diffusive and tenacious. Sedanolide and Sedanonic anhydride present in the oil are responsible for the characteristic odor of the oil.

Odor profile:
Spicy, herbaceous, and slightly fatty
Major Constituents:
Carvone, n-Heptacosane, selinene, cis-ocimene, Neophytadiene, Limonene, β-caryophyllene, and Cadinol
Application:
~ Celery seed oil has extensive applications in food and drugs as flavors.
~ Celery seed oil is known for its antioxidative, anti-rheumatic, antiseptic (urinary), antispasmodic properties.
~ Besides, it is also carminative, digestive diuretic, hepatic, stomachic, digestive tonic, stimulant, and sedative.
Aromatherapy:
Celery seed oil is mainly used in Aromatherapy for muscle and joint therapy as an aid to help mobility and to reduce pain, puffiness, skin stains & spots also.
Celery seed oil helps to counteract feelings of fatigue and lethargy. It is also thought to aid a sound night's sleep and an excellent addition to cellulite and lymphatic synergies in order to remove toxins.

We just want our customers to see how our industry prices are simple & best fit for them. For this you need to be updated from our side on daily basis. Ask our updated latest catalog with latest pricing. One more thing! our three fundamentals never change. We are committed with best price, purity & inhouse variety manufacturing. Want to know what they are? Find it here.