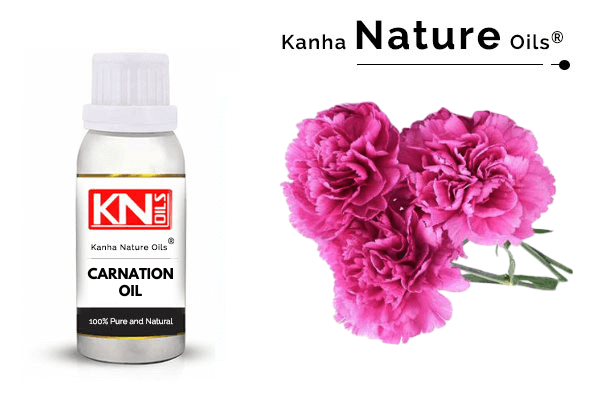 Botanical Name: Dianthus Caryophyllus
CAS No.: 8021-43-0
EC No.: 289-653-2
Flash Point (°C): 72
Refractive Index: 1.4650 – 1.5250 at 20°C
Specific Gravity: 0.8910 – 0.9450 at 25 °C
Optical Rotation (°): +3 to +6
Color: Pale yellow to olive green
Solubility: Soluble in alcohol & oils, insoluble in water
Description:
CARNATION OIL is originated from the Mediterranean regions of Greece and Italy. It is probably native to the Mediterranean region. It is commercially grown in many countries like Columbia, Kenya, Canary Island, Italy, Spain, Holland, U.S.A., etc. In India Sim-type carnation is being cultivated in many cities like Nasik, Pune, Bengaluru, Ludhiana, Solan, and Shimla, etc. Southern France, Italy, Egypt, and Kenya are now the main sources of carnation flowers for perfumery purposes.
This essential oil is obtained from the flowers by the process known as the solvent extraction method. The oil yield is 0.06-0.2%.
The properties of carnation oil are Anti-anxiety, Anti-depressant, Anti-inflammatory, Antiseptic, Aphrodisiac, Muscle relaxant, Sedative, Stimulant, Styptic, etc.
Odor profile:
Honey-sweet, spicy, and floral herbaceous aroma
Major Constituents:
Eugenol, benzyl benzoate and benzyl salicylate, Elemol and Bornyl acetate
Application:
~ Carnation Oil is an effective oil to use in perfumery as well as fragrancing Fast Moving Consumer Goods (FMCG) like Skincare products such as Soaps, Creams, and Lotions as well as in Toiletries and Homecare cleaners.
~ In addition, this oil can be used to promote health and healing of the body as well as having some benefits to the mind and emotions.
Aromatherapy:
Inhaling carnation essential oil induces a general feeling of good health, promotes sensuality, happiness, lessens anxiety, and lifts depressed moods. Regular massage with this oil along with carrier oil such as sweet almond oil or olive oil or jojoba oil moisturizer the body with a pleasant fragrance and give a soothing effect, helps in relaxation and in insomnia. It also reduces the appearance of fine lines and wrinkles.
We just want our customers to see how our industry prices are simple & best fit for them. For this you need to be updated from our side on daily basis. Ask our updated latest catalog with latest pricing. One more thing! our three fundamentals never change. We are committed with best price, purity & inhouse variety manufacturing. Want to know what they are? Find it here.