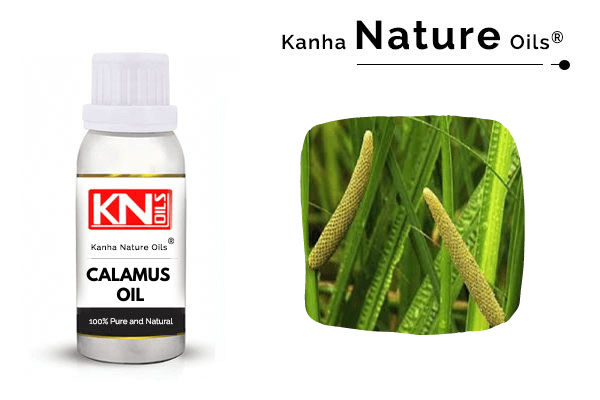 Botanical Name: Acorus calamus
CAS No.: 8015-79-0
EC No.: 283-869-0
Refractive Index: 1.5520 to 1.5548 at 25°C
Specific Gravity: 0.9460 to 0.9780 at 25 °C
Color: Pale yellow liquid
Solubility: Soluble in alcohol & organic solvents, insoluble in water
Description:
Calamus is also called a sweet flag. Calamus grows in India, central Asia, southern Russia, Siberia, and Europe. Calamus plant is an aquatic plant that grows on the margins of ponds, lakes, and streams with a long-branched rhizome immersed in the mud.
Calamus volatile oil is obtained by steam distillation of roots (rhizome). The oil is found in all parts of the plant, but it is more in the roots which yield 1.0 to 2.5% essential oil.
Calamus oil is a viscous pale yellow liquid. The major components of the oil are Asarone. Because of the presence of Asarone (Phenylpropanoid) oil can be used as a herbal anti-bacterial and Herbal insecticide. Calamus oil is also used in cosmetics ( hair care products) in a very small quantity. In perfumery it is a base note, providing a medium-strength fixative used in spicy or oriental perfumes and colognes.
Odor profile:
Refreshing cinnamon-like odor
Major Constituents:
β‐Asarone, alpha-Asarone, Acorenone, Camphone, linalool, trans-beta-Ocimene, calamusenone, Calamendiol, alpha aselinene, and beta gurjunene
Application:
~ Calamus oil is used as a carminative, removing the discomfort caused by flatulence.
~ The chemical constituents of Calamus Root Oil make it a stimulant for the brain and nervous system.
~ The medicinal properties of this oil are used to formulate herbal medicine for treating dysentery, vertigo, nervous disorders, and headache.
~ As per Ayurvedic therapy, this oil is used to cure flatulence for its carminative properties.
~ The therapeutic properties of this essential oil prevent bacterial growth in the alimentary canal of the human body causing the formation of gas. It is also Anti-spasmodic, Anti-rheumatic, memory boosting, and stimulant.
Aromatherapy:
Calamus essential oil is called as a tonic for the brain in Ayurveda, it can be used to formulate hair care products such as Anti-hair-fall oil, Hair re-growth oil. The aroma of Calamus essential oil has a stimulating effect on nervous function and is effective in treating vertigo, headache, tranquilizing, stimulant, and anti-arthritic.
We just want our customers to see how our industry prices are simple & best fit for them. For this you need to be updated from our side on daily basis. Ask our updated latest catalog with latest pricing. One more thing! our three fundamentals never change. We are committed with best price, purity & inhouse variety manufacturing. Want to know what they are? Find it here.