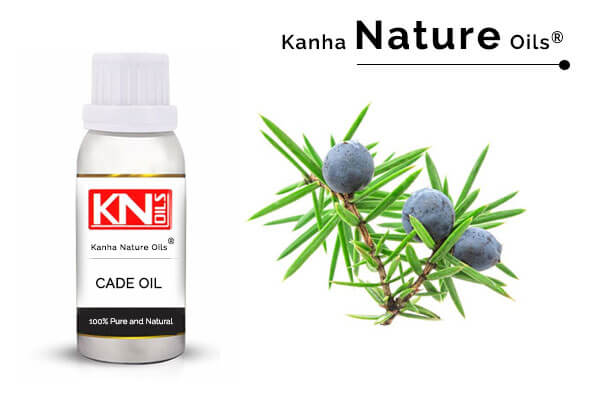 Botanical Name: Juniperus oxycedrus
CAS No.: 8013-10-3
EC No.: 289-969-0
Flash Point (°C): > 90.32
Refractive Index: 1.5120 to 1.5260 at 20°C
Specific Gravity: 0.9500 to 1.0550 at 25 °C
Color: Orange brown liquid
Solubility: Soluble in alcohol & oils, insoluble in water
Description:
Cade is also known as Juniper Tar and Prickly Juniper. It is a large evergreen shrub up to 4 meters height. Cade is Native to Southern France. Now commonly distributed throughout Europe, Northern Africa, Spain, and Yugoslavia.
Oil is extracted by distillation of branches and wood. The distillation process involves two steps. In the first step, the crude oil is obtained by the destructive distillation of branches and wood. In the second stage crude oil is subjected to steam or vacuum distillation. Its Oil can be also extracted from berries by steam distillation. The yield of oil ranges from 1 to 2.5%.
The oil has emollient, antimicrobial, and antiseptic properties. It is commonly used to remove skin and scalp problems like psoriasis, dandruff, and eczema.
Odor profile:
Smoky, woody, more or less tar-like aroma
Major Constituents:
Cedrene, Cadinene, Caryophyllene, Cadinol, Epicubenol and Guaiacol
Application:
~ The chemical properties of Cade Oil are anti-microbial, analgesic, disinfectant, and antiseptic. This property of cade oil can be utilized to manufacture a variety of Skincare, Haircare products to cure Cuts, Dandruff, Dermatitis, Eczema and Acne, and pimples.
~ Because of the good emollient, the Cade oil can also be used to prepare special skin creams and lotions for senior citizens.

Aromatherapy:
Always use rectified Cade oil in aromatherapy blend because un rectified Cade oil contains benzopyrene which is carcinogenic. During rectification, benzopyrene is removed. Cade oil helps in the treatment of pain and joint aches due to its excellent anti-inflammatory and analgesic properties. While massage it is also helpful in removing dead skin cells thereby rejuvenating skin cells to make the skin texture in a better way.
We just want our customers to see how our industry prices are simple & best fit for them. For this you need to be updated from our side on daily basis. Ask our updated latest catalog with latest pricing. One more thing! our three fundamentals never change. We are committed with best price, purity & inhouse variety manufacturing. Want to know what they are? Find it here.