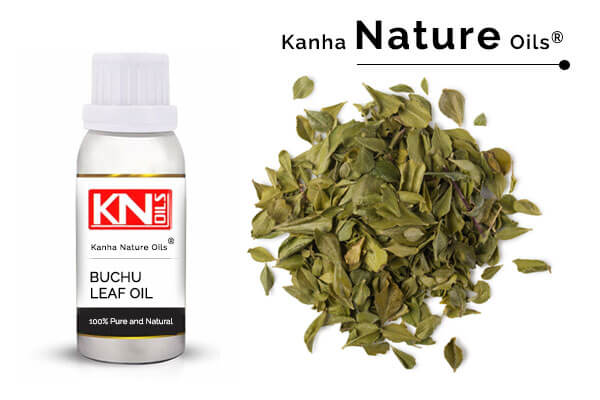 Botanical Name: Barosma betulina
CAS No.: 68650-46-4
EC No.: 291-047-8
FEMA No.: 2169
Flash Point (°C): 66.18
Refractive Index: 1.4740 to 1.4880 at 20°C
Specific Gravity: 0.9124 to 0.9570 at 25 °C
Optical Rotation (°): -10.00 to -29.00
Color: Yellow to brownish yellow liquid
Solubility: Soluble in alcohol & organic solvents, insoluble in water
Description:
Native to mountainous regions of South Africa, the buchus grow as shrubs with leathery leaves that have oil-glandular dots. Buchu is wild-harvested from the Western Cape area of South Africa.
The leaves have round oil glands and when fresh have a peppermint like odor.
The oil extracted from the buchu leaves having a very strong smell due to which it is often used as an insect repellent.

Odor profile:
Mint and camphor-like
Major Constituents:
Pulegone, Isomenthone, Isopulegone, Menthone, Diosphenols, Limonene, pulegone, iso-pulegone, diosphenol, 4-diosphenol, iso-menthone, and menthone.
Application:
~ Buchu oil is known for its antiseptic and anti-inflammatory properties.
~ Buchu oil contains limonene, a monoterpene hydrocarbon with anti-inflammatory properties. It is used for a variety of applications such as Antiseptic, anti-inflammatory, Anti-Rheumatic & Anti-Arthritic, Carminative, Digestive, Insecticide, and others.
~ Buchu is applied to the skin as an insect repellant, as a deodorant, and for skin infections. Buchu is also an insect repellent, keeping away flies, mosquitoes, fleas, bed bugs, lice, and parasites.
Aromatherapy:
Buchu oil can be used as a massage oil to relieve muscle pain and fatigue, arthritis, cellulite, cystitis. It can be also used as a sun screening agent.
We just want our customers to see how our industry prices are simple & best fit for them. For this you need to be updated from our side on daily basis. Ask our updated latest catalog with latest pricing. One more thing! our three fundamentals never change. We are committed with best price, purity & inhouse variety manufacturing. Want to know what they are? Find it here.