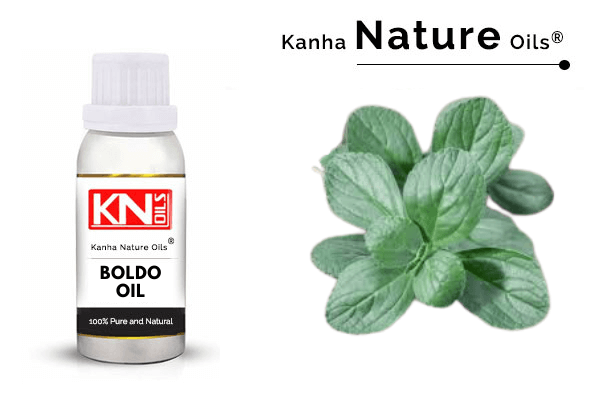 Botanical Name: Peumus boldus
CAS No.: 84649-96-7
EC No.: 283-476-4
Flash Point (°C): >74
Refractive Index: 1.4728 to 1.4778 at 20°C
Specific Gravity: 0.9152 to 0.9450 at 25 °C
Optical Rotation (°): +2° 25′ to -1° 40′
Color: Yellow
Solubility: Soluble in alcohol & oils, insoluble in water
Description:
It is endemic to the central region of Chile (South America) and commonly found in countries like Peru, Bolivia, Mexico, Argentina, and Morocco.
Boldo ( Peumus boldus ) is an evergreen shrub. It grows about 6 to 20 feet high, the leaves are thick and waxy.
The leaves and sometimes the bark of the tree is distilled for its essential oil. Boldo leaves contain also 2%–4% of essential oil.
The chief constituents of the Boldo essential oil are alpha-pinene, beta-pinene, linalool, para-cymene, cineole, limonene, camphene, and terpinene.

Odor profile:
Camphoraceous, lemony
Major Constituents:
1,8-cineole, p-Cymene, α-terpinene, linalool, bornyl-acetate, cumin aldehyde, eugenol, farnesol, fenchone, and thymol
Application:
~ Boldo essential oil has a stimulating effect on blood circulation, brain, and nerves.
~ This essential oil is toxic in nature which can kill intestinal worms. Boldo essential oil is highly toxic and the toxicity of this oil can be utilized for the manufacture of a variety of formulation for insect repellants and herbal insecticide in order to get rid of some parasites on the human body such as lice, flies, mosquitoes, fleas and bed bugs.
Aromatherapy:
Boldo essential oil can be utilized for the treatment of arthritis and rheumatism because it is a stimulant that can stimulate the blood circulation in the affected parts of the body. The oil is toxic in nature, therefore, it is used in very small doses, and then it can induce tranquilizing, soothing, or relaxing effects.
We just want our customers to see how our industry prices are simple & best fit for them. For this you need to be updated from our side on daily basis. Ask our updated latest catalog with latest pricing. One more thing! our three fundamentals never change. We are committed with best price, purity & inhouse variety manufacturing. Want to know what they are? Find it here.