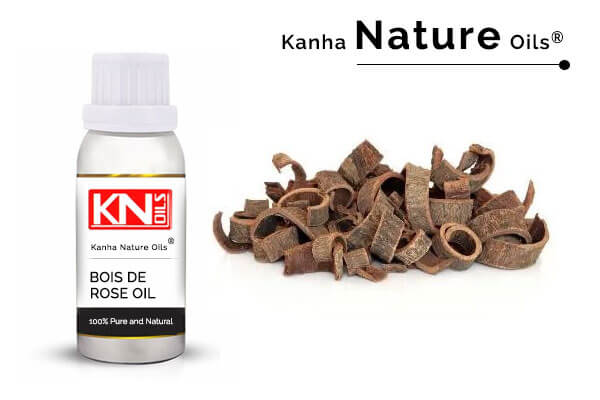 Botanical Name: Aniba rosaeodora
CAS No.: 8015-77-8
FEMA No.: 2156
Flash Point (°C): 73.84
Refractive Index: 1.4640 to 1.4680 at 20°C
Specific Gravity: 0.8720 to 0.8870 at 25 °C
Optical Rotation (°): -4.00 to +5.00
Color: Pale yellow clear liquid
Solubility: Soluble in alcohol & organic solvents, insoluble in water
Description:
Bois de Rose oil is also known as Rosewood Oil.
It is indigenous to Peru and Brazil. Aniba rosaeodora generally grows in the tropical rainforests of South America. It is found in the Brazilian, Peru, Guyana, Colombia, Ecuador, Suriname, French Guiana, and Venezuela.

The Rosewood tree is evergreen trees.
The oil is extracted by steam distillation of rosewood chips. Indian rosewood has never been a source of rosewood oil. The oil content in wood is about 1% by weight of wood.
Rosewood oil is a valuable essential oil. The oil contains about 74% linalool and because of the high content of linalool Bois de Rose oil induces a sedative effect. This oil can be used to modify into various natural oils as nature identical oils of high value, especially for the fragrance and flavoring industries.

Odor profile:
Sweet floral and woody
Major Constituents:
Linalool, a-Terpineol, Linalool Oxide,1,8-Cineole, Geraniol, and Myrcene
Application:
~ Bois de rose oil is used in formulating a number of fine fragrances for perfumery, food, cosmetics, and soaps & detergent industries.
~ Bois de rose oil is used in perfumes and cosmetics.
~ The therapeutic properties of rosewood oil are antibacterial, analgesic, anti-depressant, and deodorant.
Aromatherapy:
Bois de rose oil can be used in the manufacturing of skin care products because this oil rejuvenates skin and keeps the skin looking healthy and young. High alpha-pinene content is responsible for its antibacterial properties, while linalool, geraniol, cineole, nerol, and limonene are useful to reduce and fade the appearance of scars and blemishes, help regenerate skin cells, tissues and generate a new layer of healthy skin.
We just want our customers to see how our industry prices are simple & best fit for them. For this you need to be updated from our side on daily basis. Ask our updated latest catalog with latest pricing. One more thing! our three fundamentals never change. We are committed with best price, purity & inhouse variety manufacturing. Want to know what they are? Find it here.