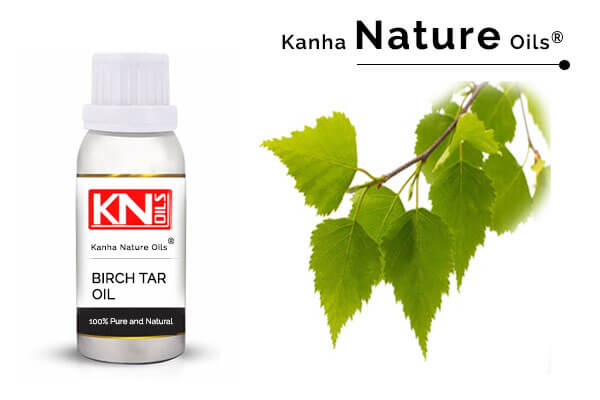 Botanical Name: Betula alba
CAS No.: 8001-88-5
EC No.: 281-660-9
Flash Point (°C): 68.38
Refractive Index: 1.5220 to 1.5890 at 20°C
Specific Gravity: 1.1320 to 1.3520 at 25 °C
Optical Rotation (°): >65
Color: Dark brown to orange liquid
Solubility: Soluble in alcohol & organic solvents, insoluble in water
Description:
Birch trees belong to the genus Betula. They are typically small to medium-sized trees and shrubs found in temperate zones in the Northern Hemisphere.
Most birches are characterized by distinctive bark colors which give bark the common names like gray Birch, White Birch, Black Birch, Silver Birch, and yellow birch to different species.
The birch tree is native to North America, Asia.
The tar is produced from the bark of various species of birch by slow destructive distillation then it is rectified to get birch tar oil.
Birch tar oil has a balsamic smell.
In perfumery, it is used in amber notes, musk accords, leather accords, incense perfumes, woody compositions, chypre, and spice accords.
Odor profile:
Spicy aroma.
Major Constituents:
Methyl salicylate, guaiacol, betulene and betulenol
Application:
~ The therapeutic properties of birch oil are Analgesic, antiseptic, astringent, and disinfectant.
~ Birch Tar Essential Oil is used for external application in the form of ointment as a pain killer.
~ It is also used in Industries-Soap & disinfectant emulsion.
~ Insecticidal properties of bergamot oil can be utilized with other essential oils in the formulation of mosquito repellant.
Aromatherapy:
BIRCH TAR OIL can be added to creams & lotions, soaps, massage oils used in the aromatherapy diffuser. It can also be used in treatments for eczema, psoriasis and other skin diseases.
We just want our customers to see how our industry prices are simple & best fit for them. For this you need to be updated from our side on daily basis. Ask our updated latest catalog with latest pricing. One more thing! our three fundamentals never change. We are committed with best price, purity & inhouse variety manufacturing. Want to know what they are? Find it here.