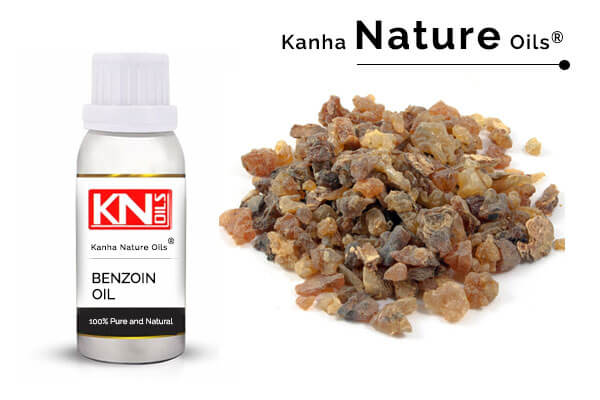 Botanical Name: Styrax benzoin
CAS No.: 84929-79-3
EC No.: 284-557-7
Refractive Index: 1.4221 – 1.4421 at 20°C
Specific Gravity: 0.9860 to 0.9890 at 25 °C
Color: Golden Brown
Solubility: Soluble in alcohol & organic solvents, insoluble in water
Description:
The Styrax benzoin tree is native to tropical regions and can grow to be up to 50 feet tall.
Benzoin is sometimes called gum benzoin or gum Benjamin. In India, it is called Sambrani, storax, and loban.
Benzoin essential oil is extracted from the natural balsamic hard resinous material by the solvent extraction process which yields about 55-75 % oil.
The oil is the thick, brown, viscous vanilla-like aroma.
It is one of the most important incense ingredients and is abundantly burned in all kinds of spiritual ceremonies.
Benzoin essential oil is helpful for face-lifting and for the reduction of wrinkles. It is also used for acne and pimples due to its antibacterial activity.
Odor profile:
Balsamic, vanilla-like aroma
Major Constituents:
Methyl cinnamate, Cinnamyl cinnamate, Benzyl cinnamate, Benzyl Benzoate, Benzyl Alcohol, Ethyl Cinnamate, Benzyl Alcohol.
Application:
~ In perfumery it is used as a base note.
~ The therapeutic properties of benzoin oil are antiseptic, anti-inflammatory, anti-depressant, astringent, carminative, and sedative.
~ Benzoin oil can be used for the treatment of eczema, psoriasis, rheumatism, arthritis, bronchitis, coughs, colds, acne.
~ In gargles and mouthwashes the oil works well.
~ To enhance the therapeutic effect of Creams, Lotions, and other skincare products 0.5 to 1.0 oil can be added to these products.
Aromatherapy:
In massage oil blend for joint problems including poor circulation, arthritis, and rheumatism 1% oil can be added. Oil is very useful in steam inhalations to help clear nasal passages when you have a cold or flu.
We just want our customers to see how our industry prices are simple & best fit for them. For this you need to be updated from our side on daily basis. Ask our updated latest catalog with latest pricing. One more thing! our three fundamentals never change. We are committed with best price, purity & inhouse variety manufacturing. Want to know what they are? Find it here.