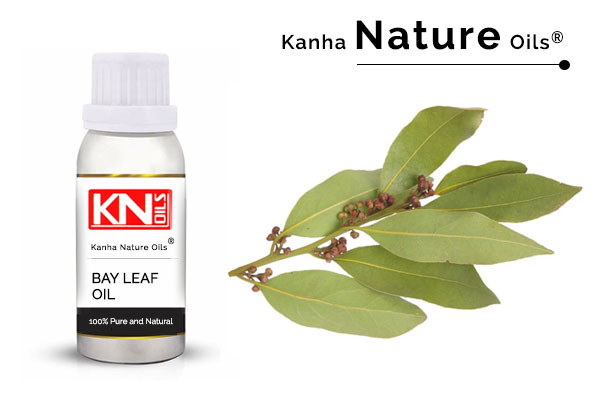 Botanical Name: Laurus nobilis
CAS No.: 8006-78-8
FEMA No.: 2122
Color: Dark yellow
Flash Point (°C): 53.8
Refractive Index: 1.4940 to 1.5140 at 20°C
Specific Gravity: 0.9372 to 0.9760 at 25 °C
Optical Rotation (°) : -3 to 0.00
Solubility: Soluble in alcohol & oils, insoluble in water
Description:
The bay leaf is an aromatic leaf commonly used in cooking.
Bay leaves come from several plants like Bay laurel (Laurus nobilis), California bay leaf (Umbellularia californica), Indian bay leaf(Cinnamomum Tamala), Indonesian bay leaf (Syzygium polyanthum), and West Indian bay leaf(Pimenta racemosa). It is an evergreen tree with dark-green, smooth leaves, native to the Mediterranean region countries and Europe. In India, it is found in South India, Uttarakhand, and Himachal Pradesh along the Western Himalaya and also in Sikkim, Assam, Mizoram, and Meghalaya.
Bay Leaf Essential oil is extracted from leaves by the steam distillation process. The leaves contain about 0.5 to1.5% essential oils.
There are three components present in the oil such as Eugenol, Chavicol, and Myrcene which make it more effective as antibacterial, antifungal, antioxidant, and insecticidal. It has been used for thousands of years for food flavoring, essential oil applications, and in traditional medicine.
Odor profile:
A fresh spicy and sweet note.
Major Constituents:
Eugenol, Chavicol, Myrcene, Limonene and Linalool.

Application:
~ As a Flavoring agent in food and beverage.
~ Bay leaf oil acts as an efficient Astringent, and an appetizer.
~ It has Carminative properties and promotes digestion.
~ Bay leaf oil can be used in the treatment of rheumatism, neuralgia, muscular pain, circulation problems, colds, flu.
~ It is also used in the formulation of disinfectants, Insect repellant, and deodorizer.
Aromatherapy:
The oil is used for aromatherapy and massage purposes as the oil can provide relief in various muscles and joints problems. It can be used in the bathing water for a relaxing effect. Bay leaf is one of the best essential oils to use as a hair tonic. It helps to stimulate the scalp and treat and prevent dandruff.
We just want our customers to see how our industry prices are simple & best fit for them. For this you need to be updated from our side on daily basis. Ask our updated latest catalog with latest pricing. One more thing! our three fundamentals never change. We are committed with best price, purity & inhouse variety manufacturing. Want to know what they are? Find it here.