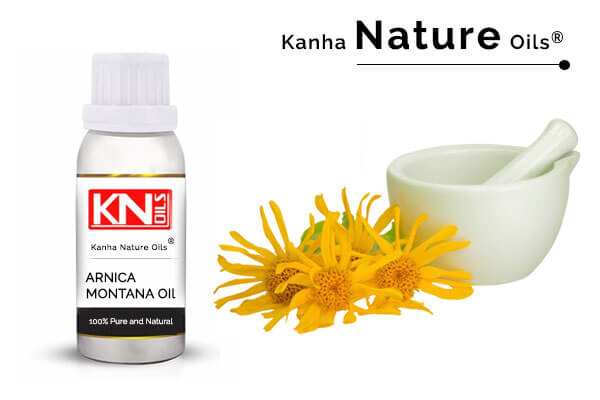 Botanical Name: Arnica montana
CAS No.: 8057-65-6
EC No.: 273-579-2
Color: Yellow-orange
Flash Point (°C): > 130 °C
Refractive Index: 1.3732 to 1.3845 at 25°C
Specific Gravity: 0.9160 to 0.9270 at 25 °C
Solubility: Soluble in alcohol & organic solvents, insoluble in water
Description:
Arnica is also known by the names of mountain tobacco.
The species Arnica Montana is native to Europe also found growing wild in the USSR, Scandinavia, and northern growing wild in the USSR, Scandinavia, and northern India. The oil is produced mainly in France, Belgium, and Germany. Arnica montana grows in nutrient-poor siliceous meadows or clay soils.
Arnica montana is a flowering plant about 18 – 60 cm tall aromatic fragrant, perennial herb. The flowering season in central Europe is between May and August.
Arnica Montana Flower Oil is an essential oil obtained from the distillation of the flowers of Arnica Montana. The essential oil content is 0.3 to 1.0%.
Arnica montana oil is used as an herbal medicine for analgesic and anti-inflammatory.
Odor profile:
Pleasant pineapple and sage-like fragrance
Major Constituents:
2,5-dimethoxy-p-cymene, thymol methyl ether, cumene, and 2,6-diisopropylanisole

Application:
~Arnica Montana oil is Transparent, Light in Texture, Absorbs Quickly.
~It is Anti-inflammatory, Antiarthritic, Antirheumatic, Antimicrobial, and Stimulates blood flow.
~ Arnica Montana oil is also used in skincare, lip care, perfumery, and hair care products.

Aromatherapy:
Arnica Montana oil is used as a Massage oil to soothes muscle aches, improves the elasticity of the skin, reduces inflammation, spasms & arthritis.
We just want our customers to see how our industry prices are simple & best fit for them. For this you need to be updated from our side on daily basis. Ask our updated latest catalog with latest pricing. One more thing! our three fundamentals never change. We are committed with best price, purity & inhouse variety manufacturing. Want to know what they are? Find it here.