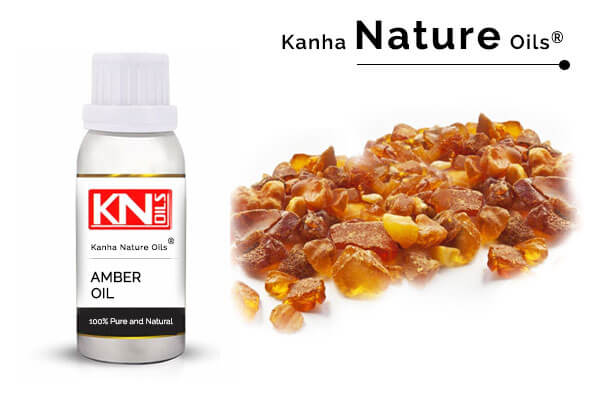 Botanical Name: Pinus succinifera
CAS No.: 8002-67-3
Color: Dark brown-red brown in color.
Flash Point (°C): 130°C
Refractive Index: 1.465 to 1.480. at 25°C
Specific Gravity: 0.9260 to 0.9300 at 25 °C
Optical Rotation (°) : +22° 30′ to +26°
Solubility: Soluble in alcohol, insoluble in water
Description:
Amber is Native of Northern Scandinavia. Its essential oil is one of the oldest essential oils in the world. Amber is actually a semi-solid mass of the resins and gums. The modern name of amber has originated from the Arabic word 'Ambar'. Amber essential oil is obtained by the distillation of the resin obtained from conifer called Pinus succinefera. This oil is transparent viscous, warm, and smoky with an undertone of floral citrus. Indian Amber oil is considered one of the better sources being rich and pungent in smell.
Odor profile:
Smoky, musky, leathery, woody, with a certain amount of tenacity.
Major Constituents:
Pinene, Carene, limonene and sabinene.

Application:
~The Ancient Romans and Greeks used Amber essential oil to cure ailments such as rheumatism, asthma, and skin diseases.
~Because of its rejuvenating, calming, and relaxing nature this essential oil is used in the perfume industry.
~It has also a wide range of applications in various industries such as pharmaceutical and cosmetics industries for application in hair oils, skin creams, lotions, shampoos, and soaps.
Aromatherapy:
The property of Amber oil is skin rejuvenating and anti-aging. It rejuvenates the skin and promotes formation of new cells in skin and strengthening the hair follicles thereby reducing hair fall. This properties of amber oil can be utilized in formulating of anti hair fall oil and anti-aging moisturizing skin creams.
We just want our customers to see how our industry prices are simple & best fit for them. For this you need to be updated from our side on daily basis. Ask our updated latest catalog with latest pricing. One more thing! our three fundamentals never change. We are committed with best price, purity & inhouse variety manufacturing. Want to know what they are? Find it here.