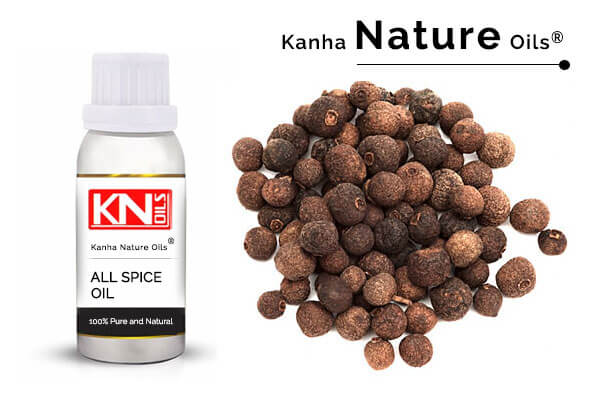 Botanical Name: Pimenta officinalis
CAS No.: 8006-77-7
FEMA: 2018
EC Number: 284-540-4
Color: Brownish yellow
Flash Point (°C): > 93.33
Refractive Index: 1.5270 to 1.5400 at 20°C
Specific Gravity: 1.0180 to 1.0480 at 25 °C
Optical Rotation (°) : -4.00 to 0.00
Solubility: Soluble in alcohol and oil. Insoluble in water.
Description:
Allspice Essential Oil is also known as Pimento Berry Essential Oil. The name allspice is because of its smell and taste similar to the various spices such as cinnamon, cloves, and nutmeg.

Allspice trees are evergreen medium-sized, grow up to a height of 8-10 meters. The Allspice tree is Native to Central America, parts of the Caribbean, Jamaica, and Mexico.
In India, there are few trees in Karnataka, Kerala, Maharashtra, and Tamil Nadu. The percentage of oil yield varies between 1.5-4.5%. The oil is Strong aromatic in nature. The oil is obtained by steam distillation of dried fruit. Allspice Essential Oil is similar to that of clove and cinnamon essential oils because of the presence of phenolic compound eugenol. The high content of Eugenol is responsible for this similarity. The health benefits of allspice are because of its ability to protect the gastrointestinal system, relieve pain, increase blood circulation, boost the immune system, Anti-fungal, and reduce inflammation.

Odor profile:
Allspice essential oil smells sharp but sweet with a spicy, cinnamon and clove-like aroma.
Major Constituents:
(i) Eugenol
(ii) Methyleugenol
(iii) Cineole
(iv) Phellandrene
(v) Caryophyllene
(vi) Gamma-Cadinenel

Application:
Allspice oil is carminative. It is helpful in flatulence and indigestion and in stomach pain. Its Anesthetic, analgesic, antioxidant, antiseptic, anti-viral oil, muscle relaxant, rubefacient, properties can be utilized to develop various medicinal formulations.
Aromatherapy:
Allspice oil contains a high amount of Eugenol, therefore, it is essential to dilute with a carrier oil and other aromatherapy oils before use in massage during a cold, chest infection, and muscle pain. Few drops of Allspice oil can be helpful in depression and to reduce stress. It is also useful in Arthritis, stiffness, and rheumatism.
We just want our customers to see how our industry prices are simple & best fit for them. For this you need to be updated from our side on daily basis. Ask our updated latest catalog with latest pricing. One more thing! our three fundamentals never change. We are committed with best price, purity & inhouse variety manufacturing. Want to know what they are? Find it here.