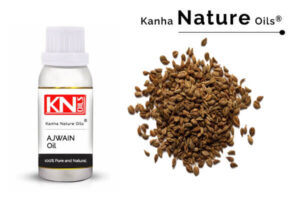 Botanical Name: Trachyspermum ammi
CAS No.: 8001-99-8
EC Number: 294-681-3
Colour: Colorless to pale yellow clear liquid
Flash Point (°C): 79.72
Refractive Index: 1.4980-1.5040 at 25°C
Specific Gravity: 0.910 to 0.930 at 25 °C
Optical rotation (°): 0 to 4
Solubility: Soluble in organic solvent and insoluble in water.
Description
Ajwain is an annual herbaceous plant belonging to the highly valued medicinally important family, Apiaceae. The herb is generally grown in October–November and should be harvested in May–June. Ajwain is a native of Egypt and is cultivated in India, Iraq, Iran, Afghanistan, Pakistan, and Bangladesh. In India, it is cultivated in Madhya Pradesh, Gujarat, Uttar Pradesh, Maharashtra, Rajasthan, West Bengal, and Bihar. The Ajwain seeds contain 2–4% oil. The major constituent of Ajwain oil is thymol, which is antioxidant, anti-inflammatory, antiseptic, antibacterial, and antifungal.
Odor profile:
Thymol and spicy type.
Major Constituents:
Thymol, p-cymene, gamma-terpene, β-pinene
Application: This oil is generally used for medicinal purpose due to its antiseptic, germicide, spasmodic, digestive properties. This oil is widely used in various industries such as in pharmaceuticals, cosmetics, Fragrances, and various other industries. Ajwain oil is used for culinary purposes to add unique and extraordinary flavor to different kinds of recipes.:
We just want our customers to see how our industry prices are simple & best fit for them. For this you need to be updated from our side on daily basis. Ask our updated latest catalog with latest pricing. One more thing! our three fundamentals never change. We are committed with best price, purity & inhouse variety manufacturing. Want to know what they are? Find it here.