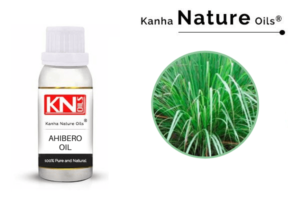 Botanical Name: Cymbopogon giganteus
CAS No.: 8002-05-9
Colour: Yellow
Refractive Index: 1.4759 to 1.4880 at 20°C
Specific Gravity: 0.8970 to 0.9480 at 20°C
Solubility: Soluble in alcohol. Insoluble in water.
Description
Ahibero is native of Madagascar. Ahibero is also called as lemongrass of Madagascar. The plant grows in many parts of Africa. Oil is extracted from leaves by the steam distillation process. The freshly distilled oil is yellow which darkens with age. Cymbopogon Gigantes is a species of fast-growing perennial aromatic grass growing up to around 2.5 meters in height in Tropical Africa from Mauritania to Somalia, Botswana, Madagascar, Tanzania, and Zimbabwe. Ahibero grass is wildly growing and harvested in these regions. Ahibero (Cymbopogon Giganteus) is a species of Lemongrass, but its chemical profile and fragrance note is different from Indian species of Lemongrass i.e. Cymbopogon flexuosus and Cymbopogon citratus.
Odor profile:
Ahibero oil has a strong, lemony and herbaceous aroma with a minty sweetness.
Major Constituents:
(i) Limonene,
(ii) Trans-mentha-1(7), 8-dien-2-ol
(iii) Cis-mentha-1(7), 8-dien-2-ol
(iv) Trans-para-mentha-2, 8-dien-1-ol
(v) Cis-limoneneoxide
(vi) Cis-verbenol
(vii) Cis-dihydrocarvone

Application: Ahibero is regarded as calming and balancing with a pleasingly sweet aroma, Ahibero essential oil blends with almost all essential oils and can be used against herpes, eczema, acne. It is Astringent, Antifungal, Antiviral and Antibacterial. It is used in mouthwash manufacturing.:
Aromatherapy:
Mood enhancer helps to regain self-confidence, especially when you feel stuck mentally. It can also be used in room diffuser. During physical fatigue, dilute in any carrier oil and massage the spine. In Rheumatism, muscular and joint stiffness massage the area with the diluted oil.
We just want our customers to see how our industry prices are simple & best fit for them. For this you need to be updated from our side on daily basis. Ask our updated latest catalog with latest pricing. One more thing! our three fundamentals never change. We are committed with best price, purity & inhouse variety manufacturing. Want to know what they are? Find it here.